Young Mums and Maternity Rights
Last Thursday the Equality and Human Rights Commission launched #PowertotheBump, a digital campaign to help young expectant and new mothers know their rights at work and have the confidence to stand up for them.
They highlighted research that showed young mothers are significantly more likely to experience pregnancy and maternity discrimination, with six times as many under 25 year olds than average reporting being dismissed from their jobs after they tell their employer they are pregnant.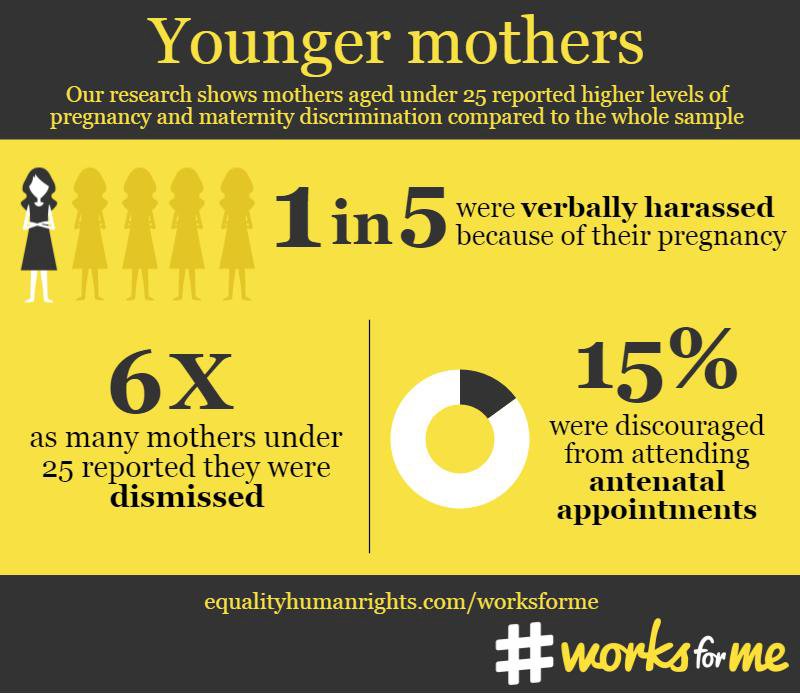 Young mums under 25 are also more likely than older mums to be verbally harassed because of their pregnancy and are more likely to be discouraged from attending antenatal appointments. This could be due to a number of reasons: Women under 25 are more likely to be in unstable, low paid work or in more junior positions. They may feel less confident to ask for time off and they may feel judged for making a choice to be a parent at a 'socially unacceptable' time in their lives, or for not having made that conscious choice at all, making the working environment uncomfortable – Indeed the EHRC state that 'the insight and feedback  shows that young women had lower awareness of their rights, were typically in less stable employment situations and were worried or lacked confidence to talk to their manager about things that were troubling them – and so felt under pressure to hand in their notice or leave their job than raise issues.'
Many (particularly large) employers are great at providing support to pregnant employees. As I've progressed in my career I've seen older women announce with confidence their pregnancies at work, and it saddens me to know that younger mums rarely have this luxury. Young mums don't tend to hear 'congratulations', any sense of pride is often viewed as a 'disgrace' – they are taught to keep their heads down and be invisible. 
Therefore this isn't about just asking all employers to do more or providing more generous conditions, but understanding why young mums are so much more likely to experience this avoidable stress during their pregnancy than older mums, and then addressing those specific issues.  Pregnancy and Maternity is a protected characteristic. It's recognised as discrimination if they are treated less favourably. This is progress. However, the only way to ensure young mums receive the right support is to apply those rights to the individual young pregnant woman regardless of the situation; whether she's working full time, studying full time, combining part time work and study, etc.
I was  at college studying A-levels when I found out I was pregnant. I only told my tutor so early because I thought I'd have to leave. Instead she looked at what I could do, how I could stay on and then how I could come back in a capacity that suited my situation. I was 16. I was scared. I wasn't living at home. I had a lot going on. My tutor became my informal advocate and supported me throughout my time at college. But this wasn't her role – it wasn't policy. I was just lucky. Even now, 20 years on, there is no clear pathway for young mum's rights regarding education and employment.
Public Health England recently published a 'A framework for supporting
teenage mothers and young fathers'. However, in their well developed 'joined up care pathways' education or employment is not mentioned at all during pregnancy and education only appears after 'Help with choosing postnatal contraception' and referrals to 'on-going support services, health visitors, teenage parent support service, and children's centres'.  Employment is never mentioned, even though many young mums want to work to financially support their families. Raising the Participation Age (RPA) means than young people are expected to stay on in education until they are 18, yet there is no legal requirement on the length of maternity leave and Local Authorities are just advised to 'tailor maternity leave to the individual'. The danger is that this gives them scope to tailor it to the individual education provider, rather than the young parent. Barnardo's research in 201o (Not the End of the Story: supporting teenage mothers back into education) cited young mums recalling being unofficially excluded for 'pregnancy-related reasons'. Bullying and, more generally, the stigma associated with being pregnant while at school was also highlighted. There is no evidence that this has improved.
While some young mums plan their pregnancies, for many, early pregnancy wasn't part of their life plan. The last thing they need is an employer or education provider adding to that sense of insecurity. I know if I hadn't had support and flexible options during pregnancy I wouldn't be where I am now. So, whatever the young mums' situation, those 'joined-up pathways' need to include early support in education or employment. Young mums need to know what their rights are as soon as they start making those often difficult  choices. And they need the confidence to stand up for those rights by knowing they will be listened to rather than judged. We know that for young mums, it's becoming a mum that leads them to care more about their future. Wouldn't it be great if others cared about those futures too, right from the very start?
Join us a 9pm tonight to discuss #powertothebump